Whether your air conditioner is making a strange sound during operation, your energy bills have spiked over the last month, or you are discovering hot spots in rooms throughout the house, you can depend on the expert HVAC technicians at Pickerington Heating & Cooling to restore your AC to its best operating condition.
We offer high-quality air conditioning repair services throughout the Westerville area. We pride ourselves on our ability to solve problems thoroughly and rapidly. Our cooling repair technicians are available 24 hours a day in case anything should go wrong in the middle of the night. Call our team today for professional air conditioning repair.
Why Schedule Professional Air Conditioner Repair
One of the difficulties associated with AC repair is that many different sources may lay behind an apparent problem. A drop in cooling power, icing along the coils, unusual noises– a variety of problems could lead to any of these conditions. Unless you have the proper tools and professional training, you will not be able to determine the specific cause. At Pickerington Heating & Cooling we are professionally trained to handle your Heating & Cooling needs. We will get the job done right the first time.
Here are a few signs that you may want to call us:
Inadequate cooling: Don't settle for anything less for your comfort during the summer. When the cooling level from your AC begins to drop, we can make certain that the cause of the issue is discovered and handled as soon as possible.
Uneven cooling: If certain rooms are not receiving the same level of cooling as others, it is often a problem with the zone control dampers; it might also originate from duct damage. Professionals will discover the reason for the problem and find the most effective way to remedy it.
System won't start: If your AC cannot start when you adjust the thermostat, then it could have trouble from a bad capacitor or another electrical issue. It could also be a problem with a miscalibrated or malfunctioning thermostat.
Expensive electrical bills: If you notice a spike in your electric bill during a time when the a/c unit runs regularly, then the rise may come from a fault inside the AC.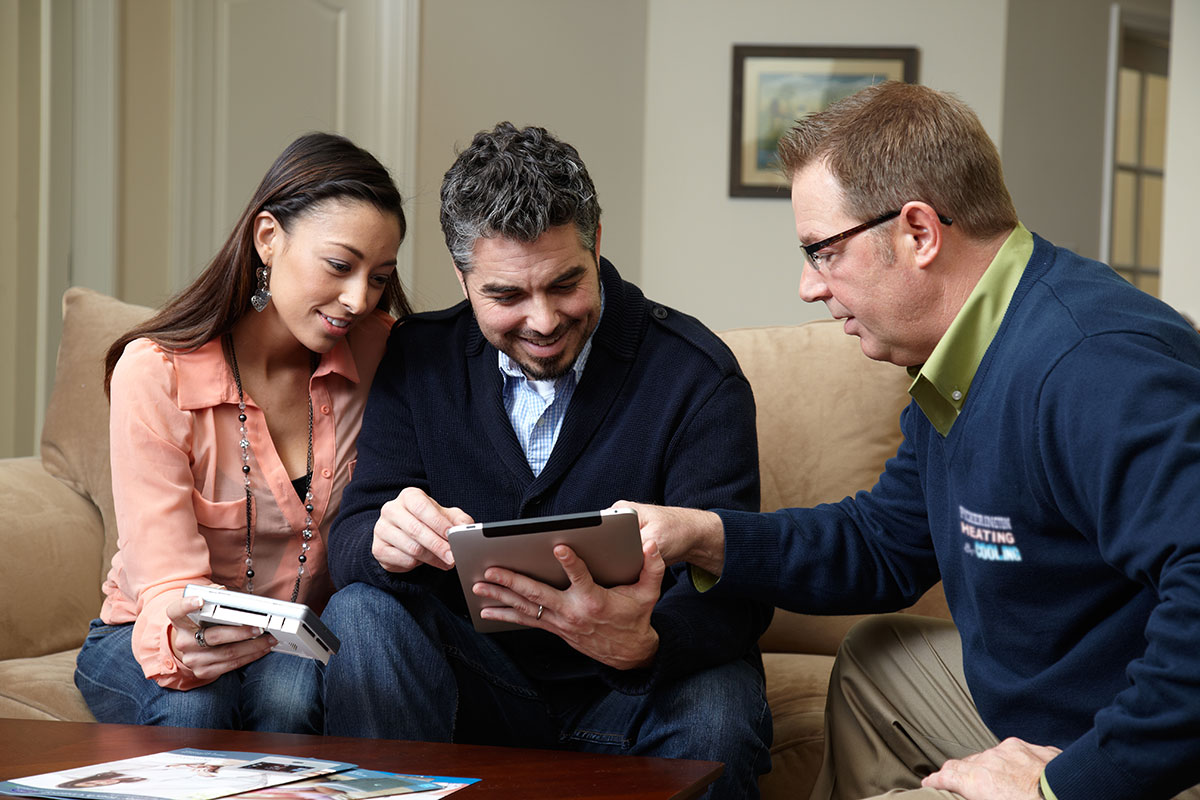 Signs That You Should Repair Your AC
It is important to make sure that your air conditioner works well at all times. Any AC is subject to a significant amount of wear and tear over time that can cause components to break down and debris to accumulate. Regular maintenance is the most effective way to stay ahead of problems, but some air conditioning repairs are inevitable.
Do You Handle My Brand of Air Conditioning?
At Pickerington Heating & Cooling we manage all system types and brands, including Carrier, Rheem, Goodman, Trane, Ruud, Amana, Bryant, Lennox, Tempstar, Comfort Aire, Comfortmaker, Heil, York, Westinghouse, Maytag, American Standard, Frigidaire, and heat pumps, among others. Call us today to schedule a professional repair.
If you suspect your system needs replacing, is failing, or you wish to explore the costs involved with purchase of a replacement A/C system, please contact Pickerington Heating & Cooling at 614-837-4026. Our offices are open 7:00 am to 9:00 pm weekdays; 8:00 am to 4:00 pm Saturday & Sunday; emergency air conditioner (A/C) service is available 24 Hr a day, 7 days a week, 365 days a year.