Are you frustrated by your heater's performance?  Whether your furnace needs to be fixed or simply maintained, you can trust Pickerington Heating & Cooling's furnace repair specialists to handle any and all heating repair and maintenance needs that you may have in your home. We handle all major system types and brands, including (but not limited to):
Carrier
Amana
American Standard
Bryant
Comfort Aire
Comfortmaker
Frigidaire
Gibson
Goodman
Heil
Lennox
Maytag
Rheem
Ruud
Tempstar
Trane
Westinghouse
York
We guarantee our work and we provide 24/7 emergency heating repair services in the event something fails after normal business hours. We built this company on going out of our way to deliver exceptional customer care and we take every job seriously, regardless of how large or small. Call us today to learn more about our heating repair and maintenance service in Pickerington, Franklin County, Fairfield County, and surrounding areas.
Signs You Should Get Your Heater Repaired
The most obvious indication that you should schedule repairs for your heater is when it stops providing the level of warmth to keep your home comfortable– or stops providing any heat at all! There are other signs to keep an eye out for that will give you an early warning that something is broken.
Increased energy bills: If a heater is malfunctioning, it will begin to cost more to run. When you notice a spike in your heating bills that you can not account for, get in touch with heating professionals to examine the heater for possible repair issues.
Temperature fluctuations: If your heater doesn't provide the needed heat, or runs too hot for your family's comfort, you should have someone have a look at your furnace.
Strange noises from the heater: Although you should expect some level of noise to come from a heater when it switches on, anything out of the ordinary that you hear while it is running is usually a warning of a malfunction. Sounds such as rattling, grinding, clicking, and rumbling all require immediate attention from a repair technician.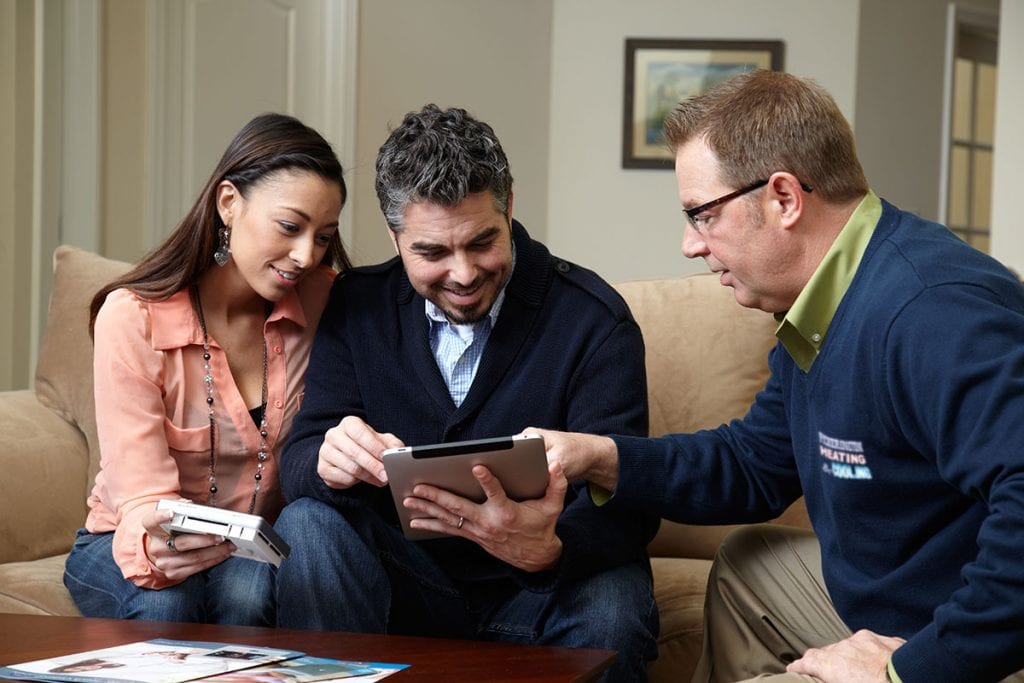 Why Hire a Professional for Your Heating Repairs.
There are a number of good reasons that you should only entrust your needs for heating repair to a professional, no matter if you have a furnace, boiler, heat pump, or radiant heating system. Gas-powered systems, which are the most common found in homes, can be potentially hazardous to tinker with unless you have proper training and equipment; in most jurisdictions, it is illegal for anyone but a licensed professional to work on an appliance connected to a gas line.
The second reason to count on professionals for repairs is that it is the only way to ensure that the heating unit works properly afterwards. You are likely to end up with an inefficient heater that costs a bit too much to run if you count on amateurs for the work.
Finally, you will reduce the number of future repairs necessary if you have the current repairs done right the first time. One of the most common reasons that professionals must perform repairs on heating systems is because of damage done to them due to untrained work. Save time and money: contact our experienced team to handle the repair services.
There are various things that can happen with your heating system. If you have a furnace, then your system might eventually be subject to problems with the ductwork itself, or possible the pilot light or heat exchanger. Even high end, energy efficient systems like a ductless mini split heat pump is subject to issues from time to time, whether it's a control board issue or frozen coils.
It's important to make sure that any heating repair is taken care of by a heating repair technician immediately. You can count on Pickerington Heating & Cooling to take care of the rest.
Call the Best HVAC Contractor in Pickerington
Read our reviews: our customers love us. We have the highest ratings of any area heating and cooling contractor. We've been in continuous operation, and owned and operated by the same family, since 1972.
If you suspect your system needs replacing, is failing, or you wish to explore the costs involved with purchase of a replacement furnace system, please contact Pickerington Heating & Cooling at 614-837-4026. Our offices are open 7:00 am to 9:00 pm weekdays; 8:00 am to 4:00 pm Saturday & Sunday; emergency furnace repair service is available 24 Hr a day, 7 days a week, 365 days a year.