If you're in the market for a new heating and/or cooling system, then you may have already read about the benefits of a heat pump. It is a complete cooling and heating device that can keep your home comfortable year-round, with cool air in the summer and heated air in the winter. It is not only powerful and effective, but also energy efficient. It works on clean electricity and connects to a system of ductwork in the home.
At Pickerington Heating & Cooling, we provide excellent heat pump installation and replacement services throughout the Hilliard area. We proudly offer heating and air conditioning equipment from high-quality American manufacturers.
Our heat pump technicians train regularly and we offer a wide range of brands and sizes so that we can find a heat pump that matches your needs exactly. Call Pickerington Heating & Cooling today for excellent heat pump installation and replacement.
What is a Heat Pump?
A heat pump works much like an air conditioner. What remains unique about the heat pump is the reversing valve that allows it to draw heat from the air outside and bring it in during the winter, and remove heat from your home during the summer.
Do You Need Your Heat Pump Replaced?
If your existing heat pump requires frequent repairs or it has become highly inefficient, it may make more sense to replace it than to continue patching up an old unit. Give us a call at Pickerington Heating & Cooling today for professional heat pump installation and replacement service throughout the Hilliard area.
Do You Need Heat Pump Repair?
There are plenty of things that can go wrong with your heat pump. After all, it's a complicated system that has numerous components, all of which must cooperate together to produce an effective thermal absorption and dissipation process. With pro maintenance and installation, your system should be in good shape for years, but there will inevitably come a time when you need professional heat pump repair service. Here are some reasons to consider calling Pickerington Heating & Cooling.
Uneven heating and cooling: your heating and cooling should be evenly distributed throughout the house. Uneven performance indicates a problem that must be dealt with.
Heat pump fails to switch on: if you find that your heat pump fails to turn on when you adjust the thermostat, then perhaps its an electrical issue.
Frozen coils: if you notice that your indoor coils have frozen, then it's typically a sign that you need repair. This may be a relatively quick fix, due to a clogged air filter, but it could also be a sign that you have low refrigerant.
Benefits of Professional Heat Pump Maintenance
There are countless benefits to professional heat pump maintenance. It's an excellent way to keep your system running at peak performance levels throughout the year. Thanks to all the use that your heat pump endures daily, it's even more important to have a professional take care of it regularly. Our heat pump maintenance ensures that your system is fully inspected, cleaned, and adjusted. Not only will this improve performance, but it will also improve energy efficiency and reduce the need for repairs.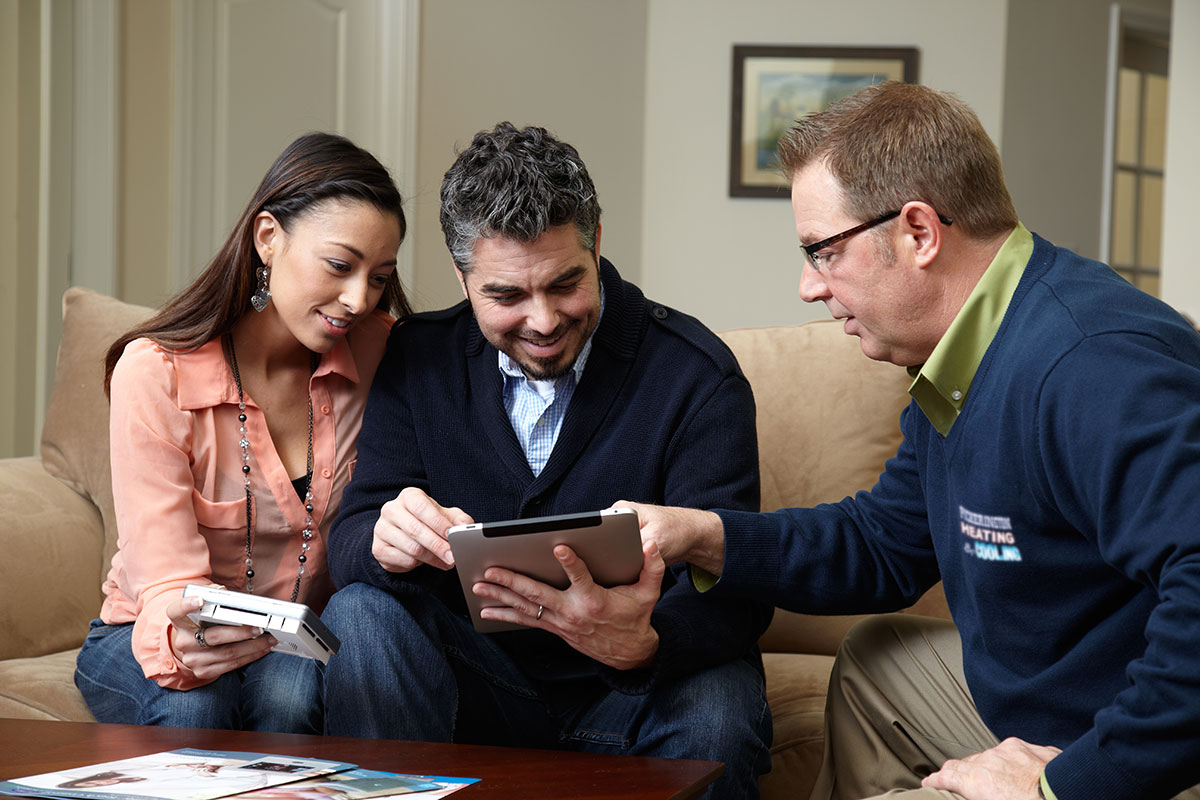 Service You Can Trust
We warrant our work and we offer 24/7 emergency heating repair services just in case something fails after normal business hours. We built this company on going out of our way to deliver exceptional customer support and we take every job seriously, despite how large or small. Call us today to learn more about our heat pump repair, maintenance and installation service in Hilliard, Franklin County, and surrounding areas.
If you suspect your system needs replacing, is failing, or you wish to explore the costs involved with purchase of a replacement A/C system, please contact Pickerington Heating & Cooling at 614-837-4026. Our offices are open 7:00 am to 9:00 pm weekdays; 8:00 am to 4:00 pm Saturday & Sunday; emergency air conditioner (A/C) service is available 24 Hr a day, 7 days a week, 365 days a year.