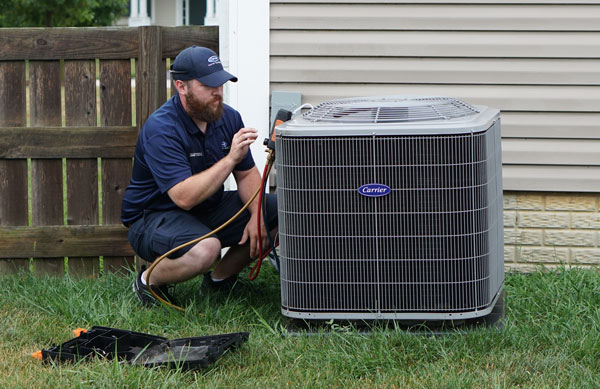 Residential Air Conditioner Repair Services in Pickerington, OH
More often than not, when a residential A/C needs a repair, the homeowner isn't given much of a warning notice. In fact, it's usually an unexpected surprise. Fortunately for our customers, our team at Pickerington Heating & Cooling is always ready and standing by. With that said, if your home's air conditioning equipment isn't cooling your home as well as it once did, or if it's making strange sounds or giving off unpleasant odors it is essential you find a reputable professional before things go from bad to worse. We can service all types of A/Cs, no matter the age, make or model.
As soon as you call our company, you can take a deep breath and relax. You can rest assured that you're in good hands and we'll repair your system. As quickly as possible, we Pickerington Heating & Cooling make it our mission to restore your home comfort system as soon as possible with the most competitive prices you'll find in the local market.
Air Conditioning Repair Services in Pickerington, OH
Common A/C Repairs
We hope you and your family are staying cool in your relaxing homes this summer. We at Pickerington Heating & Cooling highlight 4 common air conditioner repairs we make throughout the summer season:
No Power to Air Conditioner
This is the most obvious problem to diagnose. This could be due to faulty wiring, a tripped breaker, or an overheated AC that has shut itself off. Our technicians can fix the wiring, reset the circuit breaker, and make sure nothing is blocking airflow to the outdoor unit.
Worn Out Fan Belt
Any squealing sounds are a cause for concern since it could indicate the fan belt is wearing out. If the belt snaps before a professional can replace it, the repair could end up being far more expensive.
Refrigerant Leak
High-pitched hissing sounds or pools of liquid are sure signs of refrigerant leakage. Our technicians will not only recharge the A/C system but also replace the tubing to prevent the leak from continuing.
Clogged Condensate Drains
Vegetation, dirt, and other debris can clog the condensate drain over time, potentially leading to water damage. Our service technicians can flush the system and apply a treatment to help prevent future clogs.
We Service all Brands of HVAC Equipment
We Have HVAC Financing Available
Looking for financing assistance on your next HVAC repair or installation service? We at Pickerington Heating & Cooling offer a variety of financing options to fit your budget. Learn more about this offer today!