High-Quality Thermostat Services in Pickerington, OH
With all their smart features and remote accessibility, the smart thermostats of today are a far cry from that old analog dial on the wall so many of us grew up with (and being told never to touch). Furthermore, the smart thermostats we sell and install today are great for conserving energy and reducing heating and cooling costs. Because these thermostats are so computerized, they provide superior control over your home's temperature levels and overall air quality ranges. If any of this sounds like something you might be interested in, we would be more than happy to discuss some of the various smart, energy-efficient options we have available and their respective price rates.
If you're ready to improve your home's Indoor Air Quality with a Smart Thermostat, look no further than your friends at Pickerington Heating & Cooling! We'd be happy to install a thermostat from Honeywell®, or another top manufacturer. Call us to schedule Thermostat services today!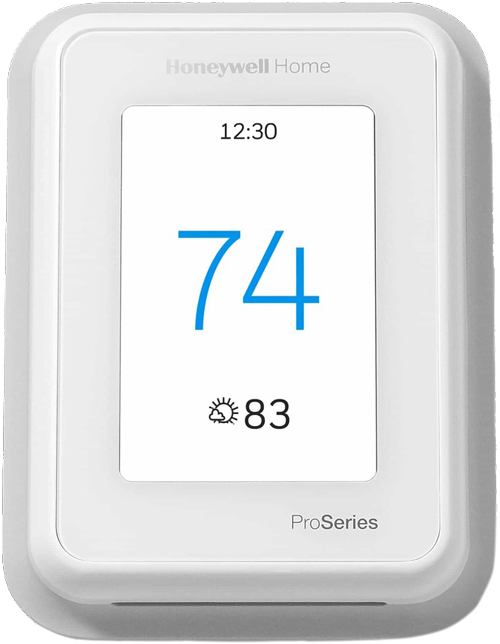 What is Indoor Air Quality?
"Indoor air quality" refers to the quality of the air in a home, school, office, or another building environment. The potential impact of indoor air quality on human health nationally can be noteworthy for several reasons:
Americans, on average, spend approximately 90 percent of their time indoors, where the concentrations of some pollutants are often 2 to 5 times higher than typical outdoor concentrations.
People who are often most susceptible to the adverse effects of pollution (e.g., the very young, older adults, people with the cardiovascular or respiratory disease) tend to spend even more time indoors.
Indoor concentrations of some pollutants have increased in recent decades due to such factors as energy-efficient building construction (when it lacks sufficient mechanical ventilation to ensure adequate air exchange) and increased use of synthetic building materials, furnishings, personal care products, pesticides, and household cleaners. (Source)
Effects on Human Health
Health effects associated with indoor air pollutants include:
Irritation of the eyes, nose, and throat.
Headaches, dizziness, and fatigue.
Respiratory diseases, heart disease, and cancer.
The link between some common indoor air pollutants (e.g., radon, particle pollution, carbon monoxide, Legionella bacterium) and health effects is very well established.
Humidifier Services in Pickerington, OH
Benefits of a Smart Thermostat
Control the Temperature Remotely
A popular benefit of installing a Wi-Fi thermostat is that it allows you to remotely control the temperature in your home. If you're coming home early and want your home cooled before you arrive, you can log into your thermostat app and adjust your cooling schedule for the day. If you're going on vacation, you can change your cooling schedule to keep the house warmer while you're gone.
Have a vacation house to maintain? Your thermostat will send alerts to let you know if the interior temperature in your home has fallen below, or risen above your set limits, so you can monitor whether or not your HVAC is working properly from afar.
Track Energy Usage
Most digital thermostats allow users to track their energy usage. You can build a home energy profile that tells you how your energy usage has changed over time, how that's likely to affect your energy costs in the future, and how you can adjust your cooling and heating preferences to decrease energy costs even further.
Easy to Install
Installing a smart thermostat is easy, as long as you have the right thermostat wiring. Remove your current thermostat cover and take a look at the wiring. It would be best if you had a thermostat C wire. If you see a wire marked with a C or with the word standard and other wires marked with R, W, Rc, or Rh, you should be able to install a smart thermostat according to the manufacturer's instructions. We'll always recommend hiring a professional to do this, however.
Home Improvement
Perhaps the biggest reason to upgrade to a Wi-Fi thermostat is for the energy cost savings. With a smart thermostat, it's easy to schedule your HVAC to run less while you're out for the day, so you'll use less energy by cooling your home only while you're in it. The manufacturers of the Ecobee® smart thermostat claim customers save 23 percent on combined heating and cooling costs.

Installation is Quick & Easy
If Indoor Air Quality system installation is something you're considering, it is essential to hire a certified, reputable contractor like Pickerington Heating & Cooling to perform the job the right way, as HVAC systems are major investments and the installation needs to be performed in a precise way. We are proud to carry Honeywell® products, and we'd be happy to set you up with a high-efficiency system, among other quality brands we carry.
We'll start by disposing of your old HVAC equipment in a responsible manner. Then, we'll begin installation according to which package you've chosen. We're often able to complete installations within one service call. We'll reconnect the ductwork, calibrate the new system controls, and perform tests on the new system to ensure everything is 100% working order. We'll be sure to clean up after ourselves and be on our way — leaving you and your family more satisfied than when we arrived!
We Have HVAC Financing Available
Looking for financing assistance on your next HVAC repair or installation service? We at Pickerington Heating & Cooling offer a variety of financing options to fit your budget. Learn more about this offer today!