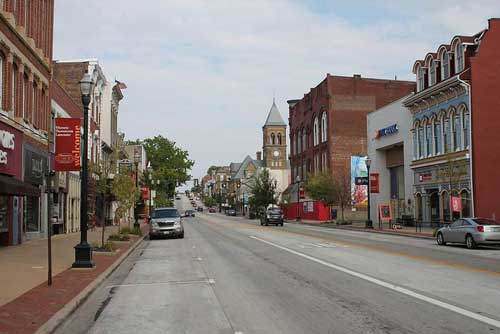 Quality Heating & Cooling Services in Lancaster, OH
Are you a Lancaster, OH resident or homeowner looking for a reputable, local HVAC contractor with affordable rates to get the most "bang for your buck?" Chances are you landed on us at Pickerington Heating & Cooling. We are proud to offer the people of Lancaster quality Heating, Cooling, and Indoor Air Quality products and services at affordable prices with online deals quick and easy financing options. We've been in this industry for over 45 years and in that time we've earned the trust and praise of countless central Ohio area residents and established a reputation as a distinguished family company built on values. Schedule quality services for your furnace, air conditioner, heat pump, humidifier, duct system, and much more today!
Getting to Know Lancaster, OH
Located in Fairfield County, Ohio, the City of Lancaster has a population of 40,505 people; it is the Fairfield County seat, located near the Hocking River about 33 miles southeast of Columbus and 38 miles southwest of Zanesville.
The Hopewell, Adena, and Fort Ancient Native Americans were the first inhabitants of the area dating back to prehistoric times. Prior to European and Colonial settlement, the Shawnee, Iroquois, and Wyandot tribes lived in the area.
The initial settlers of Lancaster were mostly German immigrants and their descendents, many of whom came from Lancaster, Pennsylvania. Ohio's oldest continuously operating newspaper, the Lancaster Eagle-Gazette, came as a result of a merger of the early Ohio Adler, founded in roughly 1807, with the Ohio Gazette, which was founded in the 1830s.
Lancaster today is home to Ohio's final county fair during Ohio fair season, making it the 88th fair. The Fairfield County Fair is always the second week of October; it features a variety of attractions, food, exhibits, games, and rides.
Furthermore, Lancaster is home to the AHA! Children's Museum, the Georgian Museum, the Decorative Arts Center of Ohio, the Ohio Glass Museum, the Sherman House, and the River Valley Mall. Countless famous athletes, politicians, entrepreneurs, entertainers, politicians, and historic figures have come out of Lancaster.
Schedule Services in Lancaster, OH Today!
So if you're a Lancaster homeowner with a heating or cooling problem, asking Alexa or Google questions like "why is my AC blowing warm air?" or "why is my heat pump not turning on?" or "why isn't my furnace working properly?" or "what's wrong with my HVAC system?" or "who's the best HVAC contractor near me?" or any other questions related to an HVAC system, we would be more than happy to come to your home promptly and get you back to breathing easy in superior comfort with peace of mind.
You can call Pickerington Heating & Cooling today at (614) 837-4026, schedule online, or get a free estimate online!
Pickerington Heating & Cooling Reviews in Lancaster, OH