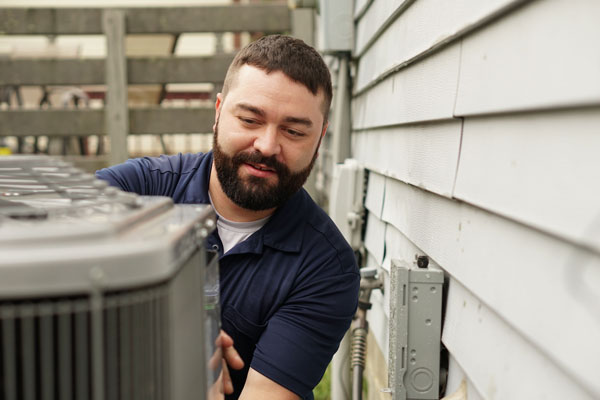 Residential Heat Pump Maintenance Services in Pickerington, OH
Season after season, residential heat pump systems work tirelessly throughout Ohio's most extreme temperatures, providing comfort in our homes. Whether Mother Nature delivers us extreme heat or freezing cold temperatures, our heat pumps take care of us year-round — provided we take care of them. In order to make sure our heat pump equipment runs smoothly and efficiently for years to come — there's quite simply no substitute for regular maintenance when maintenance is performed by a knowledgeable Pickerington Heating & Cooling technician.
Having seasonal maintenance performed on our heat pumps regularly and consistently every year ensures this dual heating and cooling equipment operates smoothly and far more efficiently. Not only that, however, maintenance also ensures the system will operate much longer while lowering, if not eliminating, the need for repairs made unexpectedly. Overall, seasonal maintenance paves the way for you to have a far more comfortable — and far less expensive — heat pump experience.
Heat Pump Maintenance Services in Pickerington, OH
Top Reasons Why Maintenance is Essential
Being regular or consistent with having preventative maintenance performed is a heat pump's best friend. Below are our Top Reasons Why Heat Pump Maintenance is Essential:
Maximize Energy Efficiency
In order to provide comfort in hot and cold weather, heat pumps utilize a large coil outside and a second coil inside the home to move heat to maintain comfort levels. Because the outdoor coil is subjected to the elements year-round, it gets wet easily and tends to accumulate dust, dirt, debris, and other stuff on its casing. Because the coil inside the house is close to the air handler, condensation forms around it that attract airborne pollutants like dust, mold, pet dander, and mildew.
Because heat pump coils, both inside and out, work best when they are clean, it is important to remember to keep them clean. If you don't keep your heat pump clean and if you don't maintain it correctly, it will put needless stress on the equipment. It will need to labor harder to maintain your home heating and cooling needs. This added stress is also hard on the heat pump's fans, motors and other parts of the system.
Longer Equipment Lifespan
Preventative maintenance is something that should be a part of every homeowner's home maintenance/home improvement plan. Having a qualified, certified HVAC professional conduct a Heat Pump Tune-Up on your heat pump lengthens the lifespan of the system, enabling it to perform well and last a lot longer than it would without being cared for.
Some other maintenance tips include replacing heat pump air filters and cleaning the system's coils ensures there's unobstructed airflow, which prevents wear and tear; Recharging refrigerant levels enables the system to perform like it's meant to. Heat pumps that are low on the refrigerant struggle to keep up with comfort levels, which can damage the compressor.
We Service all Brands of HVAC Equipment
We Have HVAC Financing Available
Looking for financing assistance on your next HVAC repair or installation service? We at Pickerington Heating & Cooling offer a variety of financing options to fit your budget. Learn more about this offer today!