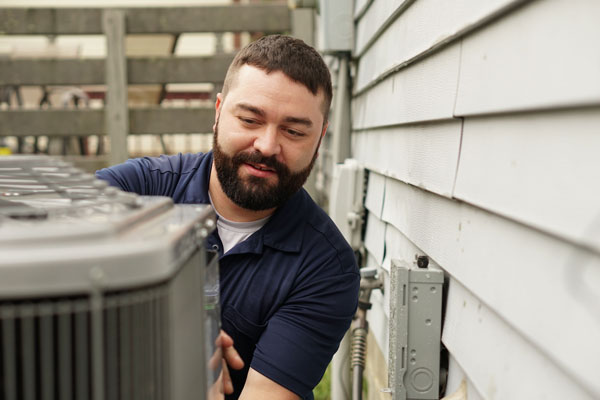 Residential Air Conditioner Repair, Maintenance & Installation in Pickerington, OH
Whether your air conditioning equipment is on its last leg and needs to be serviced, or if you're looking for a reputable AC technician to conduct seasonal maintenance, we at Pickerington Heating & Cooling are happy to offer any and all of the cooling services a homeowner could need for their air conditioner or heat pump at competitive prices with online deals and fast and easy financing options.
We're the number one choice in Pickerington, OH for air conditioner repair, a/c tune-ups, and air conditioner installation and replacement services. Give your friends at Pickerington Heating & Cooling call today to schedule cooling services!
Pickerington Heating & Cooling
Cooling System Services
When the weather starts to warm up in central Ohio, homeowners need to begin checking to make sure their residential air conditioners and heat pumps are ready for the truly hot and humid summer days that lay ahead. Schedule cooling system services with us today!

A/C Repair
Does your A/C need to be repaired to restore cool, crisp air in your home? Learn more about our A/C Repair services!

A/C Maintenance
Ready for routine A/C maintenance? Learn more about the benefits, our A/C tune-ups and our maintenance agreement.

A/C Installation
Time to upgrade or replace your A/C? We have a number of top-HVAC brands to choose from. Learn more today!

Heat Pump Repair
Broken heat pump? We can fix it, no matter the make, model or age! Learn more about our Heat Pump Repair services today.

Heat Pump Maintenance
Does your heat pump need a tune-up? Learn more about the benefits of maintenance and our maintenance agreement.

Heat Pump Installation
Time to replace your existing heat pump or install a new one? We have a number of brands to choose from. Learn more today!
Air Conditioning Repair Services in Pickerington, OH
Common A/C Repairs
We hope you and your family are staying cool in your relaxing homes this summer. We at Pickerington Heating & Cooling highlight 4 common air conditioner repairs we make throughout the summer season:
No Power to Air Conditioner
This is the most obvious problem to diagnose. This could be due to faulty wiring, a tripped breaker, or an overheated AC that has shut itself off. Our technicians can fix the wiring, reset the circuit breaker, and make sure nothing is blocking airflow to the outdoor unit.
Worn Out Fan Belt
Any squealing sounds are a cause for concern since it could indicate the fan belt is wearing out. If the belt snaps before a professional can replace it, the repair could end up being far more expensive.
Refrigerant Leak
High-pitched hissing sounds or pools of liquid are sure signs of refrigerant leakage. Our technicians will not only recharge the A/C system but also replace the tubing to prevent the leak from continuing.
Clogged Condensate Drains
Vegetation, dirt, and other debris can clog the condensate drain over time, potentially leading to water damage. Our service technicians can flush the system and apply a treatment to help prevent future clogs.

Home Cooling Efficiency Tips
We at Pickerington Heating & Cooling hope your family enjoys a relaxing summer in your comfortable sanctuary, tucked away from Ohio's heat. To add to that comfort, we present some money-saving tips to keep your home cool for less money while increasing the life of your home cooling system:
1.) Utilize Window Coverings
Use your windows to keep out the heat by installing window coverings to prevent heat gain through your windows during the day. Find out about window treatments and coverings that can improve energy efficiency.
2.) Seal Cracks and Openings
Keep that hot air from the outside from leaking inside by sealing cracks and openings in your home, utilizing caulk and weather stripping while keeping your home's insulation up to par.
3.) Set Your Thermostat Properly
Keep your home warmer than normal while you are away, and lower the thermostat setting once you return home and need cooling. One of our smart thermostat upgrades will do this for you automatically without losing the slightest bit of comfort.
We Service all Brands of HVAC Equipment
We Have HVAC Financing Available
Looking for financing assistance on your next HVAC repair or installation service? We at Pickerington Heating & Cooling offer a variety of financing options to fit your budget. Learn more about this offer today!