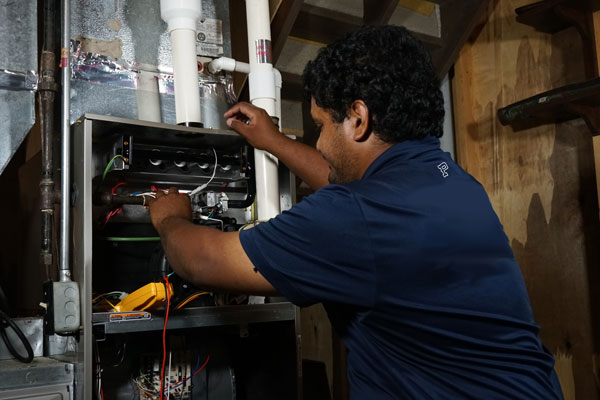 High-Quality Furnace Repair Services in Pickerington, OH
Whether you're waking up one morning to a cold home, getting home from work and discovering your heat is out, or turning up your heat on your thermostat and getting no response from the system — our team of trained technicians here at Pickerington Heating & Cooling is always ready to help, no matter the situation.
All winter long, we offer emergency furnace repairs. Anytime you call us, our techs are notified right away. You can rest assured someone will be there promptly and prepared to conduct a quick and honest assessment of the your furnace. Because we hire some of the best local furnace technicians in the industry and utilize the latest tools, technologies, and diagnostic equipment, we guarantee customer satisfaction above everything else. Trust the experts at Pickerington Heating & Cooling to deliver amazing results!
Furnace Repair Services in Pickerington, OH
6 Signs Your Furnace Needs Repair
Because heating equipment stays powered off for most of the year when the seasons begin to change and cooler weather sets in, it's a good idea to have a professional come over to perform seasonal maintenance heading into the winter to check for problems that could be quietly looming on the horizon. If your furnace is outdated, old, or you are beginning to doubt its reliability, we present a list of the Top 6 Signs Your Heating System Might Be Heading for Trouble:
Frequent Need for Repair
If you find yourself needing to make repairs more frequently, like multiple furnace repairs in the past few years, you may want to start planning for a new one soon, depending on how much those repairs are costing and whether they were long-term solutions. In some ways, furnaces are like certain automobiles. They tend to start breaking down more often as they get older.
Strange Sounds
It's definitely abnormal for a furnace to make obviously loud noises or foreign and unusual sounds. The difference between sounds that are normal and healthy and those that are warning us and are unhealthy is usually fairly obvious. For example, you are hearing metal screeching or loud noises like pounding, grinding, whistling or screeching — you should give us a call soon. We can check it out and fix it before it breaks down or becomes a more serious problem.
Yellow Pilot Light
If your pilot light is yellow, you should definitely take this very seriously! Yellow pilot lights are a sure sign of what could be serious danger. Call us immediately if your pilot light has a yellow flame. It means there's a mixture of gases and your furnace isn't working properly. The proper color of a pilot light is blue, which indicates there's a correct balance of gases. A yellow pilot light, however, means dangerous gases like carbon monoxide are mixing.
No Response to Thermostat
What do we do when we turn the heat up and the furnace doesn't do anything? If this happens, it could be a result of a bad thermostat, faulty wiring, or you could have air leaks in your air duct system. Another reason for this could be related to your furnace's pilot light. In any case, it goes without saying, if your furnace isn't responding to your thermostat, you should give us a call after checking its batteries.
Spotty Temperatures
If the air feels cold and drafty in certain areas in your home, your furnace might be having performance issues. In the same way, if your home has warmer areas than others, you should call us to discuss the problem and we can explore your options to resolve it for good.
Increasing Heating Bills
If your heating bills have been (or are beginning to) increase, it's a sign of an efficiency problem. A variety of furnace problems could be causing your system's performance to decline if this is the case. Because it's only going to get worse, you should give us a call so we can pinpoint the problem and discuss ways to resolve it to save you money in the long term.
When to Repair vs. Replace Your Furnace
It's a common question we get from homeowners, new and old: "Should I repair or replace my furnace?" There are many factors to consider when making this decision. Here are a few reasons to lean toward repairing your furnace over replacing it.

Age of Unit
The lifespan of a furnace is 15-20 years on average. If your furnace 10 years or younger, we recommend looking into repair. We also highly recommend keeping up with routine maintenance to keep the warranty in good standing. Some repairs may be covered under certain manufacturer warranties.

History of Repairs
Consider the amount you've spent on repairs since owning the unit. If the cost of repair is less than 50% of the cost of replacement, we recommend repairing your system. But keep in mind other factors like age, efficiency, etc.

Unit is in Good Shape
If your furnace is showing symptoms of an issue (i.e. strange noises, odors, etc.) we recommend scheduling a diagnostic service call to determine whether it's fixable or time for a replacement. If we determine your furnace simply needs to be repaired, we won't even try to sell you a new system!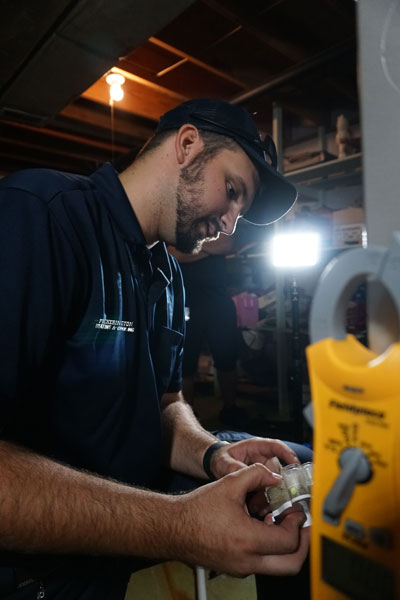 We Service all Brands of HVAC Equipment
We Have HVAC Financing Available
Looking for financing assistance on your next HVAC repair or installation service? We at Pickerington Heating & Cooling offer a variety of financing options to fit your budget. Learn more about this offer today!