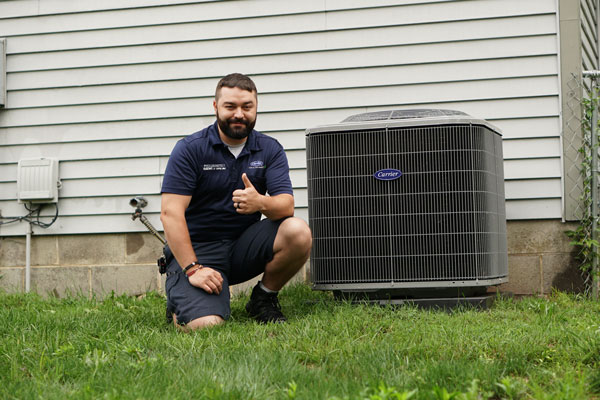 Pickerington Heat Pump Installation
Heat pumps are centralized forced-air systems that operate effectively as a heat source and an A/C. As such, they have major benefits for homeowners looking for an alternative type of climate control that's energy-efficient and affordable. With heat pumps increasing in popularity as single effective year-round heating and cooling units, we at
Pickerington Heating & Cooling
are proud to promote our heat pump installation and replacement services. We believe these systems are worthy of their popularity because of the efficiency they offer homeowners. When it comes to making a major buying decision such as heat pump installation, we want our customers to feel as comfortable as possible. We want you to be well informed with full confidence moving forward. We want you to be so happy with the entire process, from the first call to finish, that you won't hesitate to tell your friends and family about us, should they ever need some kind of HVAC product or service.
Schedule Heat Pump Installation & Replacement services today!
What is a Heat Pump?
Heat pumps are centralized forced-air systems that operate effectively as both an A/C and a heat source. As such, they have major benefits for homeowners looking for an alternative type of climate control that's energy efficient and affordable.
How They Work
A heat pump in heating mode operates just like cooling mode, except that the flow of refrigerant is reversed by the aptly named reversing valve. The flow reversal means that the heating source becomes the outside air (even when outdoor temperatures are low) and the heat energy is released inside the home. The outside coil now has the function of an evaporator, and the indoor coil now has the role of the condenser.
The physics of the process are the same. Heat energy is absorbed in the outdoor unit by cool liquid refrigerant, turning it into cold gas. Pressure is then applied to the cold gas, turning it to hot gas. The hot gas is cooled in the indoor unit by passing air, heating the air and condensing the the gas to warm liquid. The warm liquid is relieved of pressure as it enters the outdoor unit, turning it to cool liquid and renewing the cycle. (Source)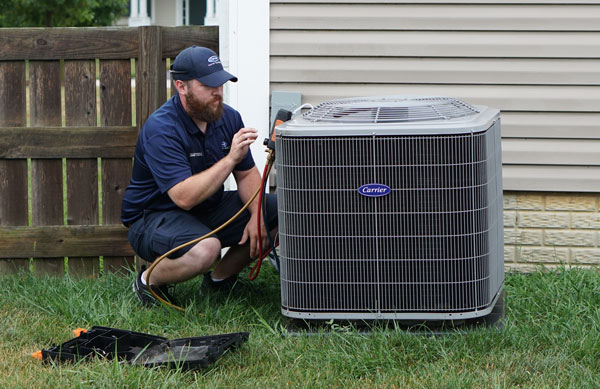 Featured Deal: Free Online Estimate
We'll provide you with a new HVAC system estimate for free. HVAC replacement doesn't have to break the bank. You can also take advantage of our in-house financing opportunities with affordable monthly installments and low-interest rates for minor and major repairs on your furnace, air conditioning system, heat pump or air quality unit.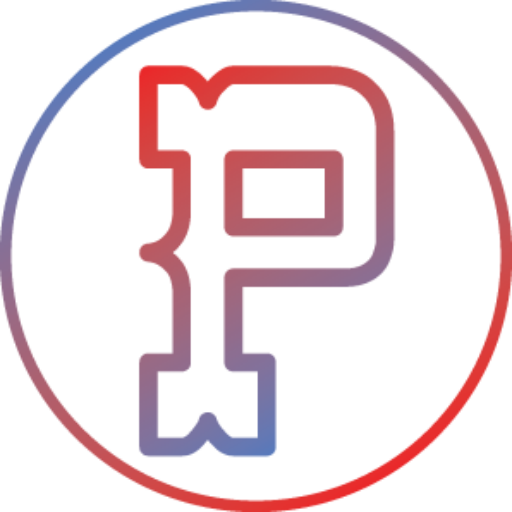 $0 Instant Online Estimate
Book a free in-home estimate
Heat Pump Replacement Services in Pickerington, OH
Is a Heat Pump Right for Me?
Heat Pumps Replace Exisiting HVAC Systems
If you don't already own a heat pump, and you're considering the purchase of one for your residence, keep in mind that heat pump installation typically involves the replacement of both your furnace and air conditioning unit. As such, depending on whether your home heating system utilizes electricity or natural gas as its heat source, having a heat pump installed might be the right option. Generally speaking, purchasing a heat pump might be ideal if:
Your existing home cooling equipment is needing replacement.
You are needing to replace your gas or electric furnace.
Your HVAC system is getting older and/or inefficient and your energy bills are on the rise.
Sizing is Crucial
If heat pump installation is something you're considering, it is essential to hire a certified, reputable professional like Pickerington Heating & Cooling to perform the job the right way, as HVAC systems are major investments and the installation needs to be performed in a precise way. If not sized correctly or if installed even the slightest way wrong, it could jeopardize the performance and efficiency of the entire overall system. If too many corners are cut, you could end up needing a true professional to fix what was done.
We Service all Brands of HVAC Equipment
We Have HVAC Financing Available
Looking for financing assistance on your next HVAC repair or installation service? We at Pickerington Heating & Cooling offer a variety of financing options to fit your budget. Learn more about this offer today!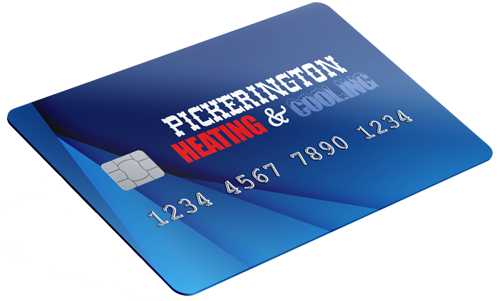 How can we help you?
We're standing by 24/7, ready to answer all of your questions or dispatch emergency services to your home. Give us a call at (614) 837-4026 or submit our online contact form.