High-Quality Dehumidifer Services in Pickerington, OH
As central Ohio residents, we know all-too-well how humid it tends to get in the summer. When those days arrive, it has everyone wanting to go back inside. But what if it's moist inside? According to the experts, the relative humidity level inside a home should be between 30% and 50%. As it gets higher, the house starts to feel uncomfortable and becomes unhealthy as it negatively impacts your Indoor Air Quality and hinders your air conditioner's efficiency. Below, we highlight some ways in which using a dehumidifier can boost your Indoor Air Quality.
If you're ready to improve your home's Indoor Air Quality with a Dehumidifier, look no further than your friends at Pickerington Heating & Cooling! We'd be happy to install a dehumidifier from Aprilaire®, or another top manufacturer. Call us to schedule Dehumidifier services today!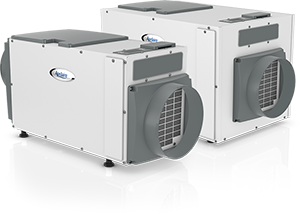 What is Indoor Air Quality?
"Indoor air quality" refers to the quality of the air in a home, school, office, or another building environment. The potential impact of indoor air quality on human health nationally can be noteworthy for several reasons:
Americans, on average, spend approximately 90 percent of their time indoors, where the concentrations of some pollutants are often 2 to 5 times higher than typical outdoor concentrations.
People who are often most susceptible to the adverse effects of pollution (e.g., the very young, older adults, people with the cardiovascular or respiratory disease) tend to spend even more time indoors.
Indoor concentrations of some pollutants have increased in recent decades due to such factors as energy-efficient building construction (when it lacks sufficient mechanical ventilation to ensure adequate air exchange) and increased use of synthetic building materials, furnishings, personal care products, pesticides, and household cleaners. (Source)
Effects on Human Health
Health effects associated with indoor air pollutants include:
Irritation of the eyes, nose, and throat.
Headaches, dizziness, and fatigue.
Respiratory diseases, heart disease, and cancer.
The link between some common indoor air pollutants (e.g., radon, particle pollution, carbon monoxide, Legionella bacterium) and health effects is very well established.
Benefits of a Dehumidifier
Controls Moisture Levels
High levels of moisture in a home can cause structural problems over time. Condensation can build up, causing mildew and mold to form, as well as warping and deterioration. Even furniture can be damaged from long-term humidity and high moisture. Ironically, homes that are well-sealed for energy efficiency can have some of the worst problems because of decreased air circulation. If you notice paint or wallpaper peeling, unusual stains, or a musty or moldy odor, you may need a dehumidifier to help prevent additional damage.
Improves Comfort
Houses with proper humidity levels are generally more comfortable, especially in tropical or muggy climates. The indoor air quality is usually improved, and the air stays cooler when a dehumidifier is used.
Reduces pest related problems
Many pests, such as spiders and roaches, gravitate to moist environments. If you've noticed some crawly guests sharing your space, a dehumidifier may help discourage their visits. Pay attention to the rooms where you spot the most pest activity, and if they are rooms where water is present, or humidity is high, you may have found the root of the problem.
Home Improvement
Moisture from a humidifier can be helpful around the home. Any moisture-loving houseplants may become more vibrant, and wood floors or furniture may last longer. Humidity can also help to prevent the wallpaper from cracking and static electricity from building up. Humid air can also feel warmer than dry air, allowing homeowners to save money on utility bills in the winter months.

Installation is Quick & Easy
If Indoor Air Quality system installation is something you're considering, it is essential to hire a certified, reputable contractor like Pickerington Heating & Cooling to perform the job the right way, as HVAC systems are major investments and the installation needs to be performed in a precise way. We are proud to carry Aprilaire® products, and we'd be happy to set you up with a high-efficiency system, among other quality brands we carry.
We'll start by disposing of your old HVAC equipment in a responsible manner. Then, we'll begin installation according to which package you've chosen. We're often able to complete installations within one service call. We'll reconnect the ductwork, calibrate the new system controls, and perform tests on the new system to ensure everything is 100% working order. We'll be sure to clean up after ourselves and be on our way — leaving you and your family more satisfied than when we arrived!
We Have HVAC Financing Available
Looking for financing assistance on your next HVAC repair or installation service? We at Pickerington Heating & Cooling offer a variety of financing options to fit your budget. Learn more about this offer today!