High-Quality Indoor Air Quality Services in Pickerington, OH
Because Americans were spending roughly 90 percent of their time inside before COVID-19, and because modern homes and workplaces are intentionally sealed airtight to keep in the heat, these noxious airborne toxins can become trapped in the air supply. Because of the associated health risks involved, officials are trying to raise awareness to educate homeowners about Indoor Air Pollution. Indoor Air Quality, is an important health issue that affects us all in a variety of ways and we at Pickerington Heating & Cooling our community breathe cleaner air inside their homes.
We offer a long list of Indoor Air Quality solutions to help you improve your home's air quality. in your Pickerington home! From smart thermostat upgrades to humidifier installations, we've got you covered. Learn more and schedule services today!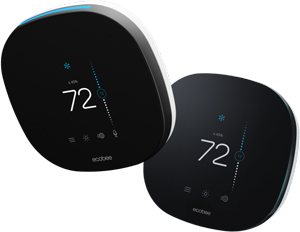 Pickerington Heating & Cooling
Indoor Air Quality Services
At Pickerington Heating & Cooling, we go to great lengths to provide our customers with not only superior levels of comfort at reasonable price rates. Equally as important, we strive also to help our customers maintain healthy Indoor Air Quality.

Thermostats
Take total control over your indoor air temperatures with a thermostat upgrade from Honeywell, Ecobee, and more!

Media Air Filters
Block dust, pollen, and pet dander from floating throughout your indoor air with an air filter upgrade.

Humidifiers
Increase the levels of humidity in your home (especially in the winter) with a Whole-Home Humidifier Installation.

Dehumidifiers
If you have asthma or allergies, a dehumidifier might help relieve symptoms. A dehumidifier reduces the level of moisture and sustains it at an optimal level.

iWave-R
Kill bacteria and viruses with this air purification system, the iWave-R, that easily can install into your current HVAC ecosystem.

UV Lights
UV Lights are designed to sanitize the air as it passes through your AC and heating systems. We have a line of UV Lights at affordable rates.
What is Indoor Air Quality?
"Indoor air quality" refers to the quality of the air in a home, school, office, or another building environment. The potential impact of indoor air quality on human health nationally can be noteworthy for several reasons:
Americans, on average, spend approximately 90 percent of their time indoors, where the concentrations of some pollutants are often 2 to 5 times higher than typical outdoor concentrations.
People who are often most susceptible to the adverse effects of pollution (e.g., the very young, older adults, people with the cardiovascular or respiratory disease) tend to spend even more time indoors.
Indoor concentrations of some pollutants have increased in recent decades due to such factors as energy-efficient building construction (when it lacks sufficient mechanical ventilation to ensure adequate air exchange) and increased use of synthetic building materials, furnishings, personal care products, pesticides, and household cleaners. (Source)
Effects on Human Health
Health effects associated with indoor air pollutants include:
Irritation of the eyes, nose, and throat.
Headaches, dizziness, and fatigue.
Respiratory diseases, heart disease, and cancer.
The link between some common indoor air pollutants (e.g., radon, particle pollution, carbon monoxide, Legionella bacterium) and health effects is very well established.

Benefits of Healthy Air
Your family eats healthy foods, drinks clean water, practices good hygiene, gets plenty of sleep and exercise, but are you, your family, and pets breathing healthy indoor air?
1.) Sleep Better
Cleaner air means we will have the ability to rest easier and are less likely to get sick. This reduction in our stress levels makes sleep come more readily. But cooler air temperatures also help us to sleep better. It's natural for our bodies to relax in cooler temperatures, and a good A/C can help quite a bit.
2.) Eliminate Odors
Having a more relaxed indoor environment makes it harder for mold to bloom and for germs to develop. A quality air filtration system also contributes to eliminating odors by preventing many germs, mildew, and pollutants from entering your home.
3.) Breather Easier
Breathing well is something we tend to take for granted. The more contaminated the air we breathe is, the more quickly we succumb to illnesses and allergies. Even a subtle amount of indoor pollutants can raise our stress levels and inhibit good health. 
We Service all Brands of HVAC Equipment
We Have HVAC Financing Available
Looking for financing assistance on your next HVAC repair or installation service? We offer amazing financing with a low interest credit card. Learn more about this offer today!